Read Time:
3 Minute, 4 Second
Treadstone 71 gives you any time, anywhere access to the most intensive, intelligence community validated training. Our courses follow standards only taught in the US Intelligence Community fully adapted to the cyber environment. Teaching cyber intelligence and counterintelligence since 2008, taught by former intelligence community professionals.  WWW.CYBERINTELTRAININGCENTER.COM
"If all you want is technical intelligence at the lowest level, this is not the program for you. Treadstone 71 teaches every aspect of the complete intelligence lifecycle. No skimping here. The courses are rigorous combinding academic with hands-on case studies – Great stuff!"
All Treadstone 71 courses include:
A minimum of 8 weeks of online access easily extended to 12 or 16
Hands-on case studies using cyber OPSEC methods for passive collection against adversaries
Certified Cyber Intelligence program – Certified Cyber Counterintelligence program
40 CPEs
Courseware and materials (Depending on the course – VPN, Templates, Process Flows, Books (Kindle), Examples, Procedures)
High-quality recorded instruction and Direct access to the instructor
The Cyber Intelligence Course follows the International Association for Intelligence Education Standards for Intelligence Analyst Initial Training (IAFIE) and the Professional Head of Intelligence Analysis Framework (PHIA).
Valid through the     US-CERT https://niccs.us-cert.gov/training/search/treadstone-71
International Association For Intelligence Education – IAFIE:
I. Introduction to Intelligence II. Critical Thinking III. Analytic Writing IV. Creative Thinking V. Analytic Briefing VI. Structured Analytic Techniques. VII. Analytic Issues VIII. Argument Mapping IX. Case Studies
Professional Head of Intelligence Assessment – PHIA:
As an analyst the framework will:
help you articulate your current skill levels, using language that is recognized across the intelligence assessment community.
help you identify learning and development gaps.
support you if you wish to move between intelligence assessment organisations more easily.
As a line manager/team leader of analysts it will:
help you recruit analysts more effectively.
facilitate career development conversations.
enable the increasing professionalization of your team.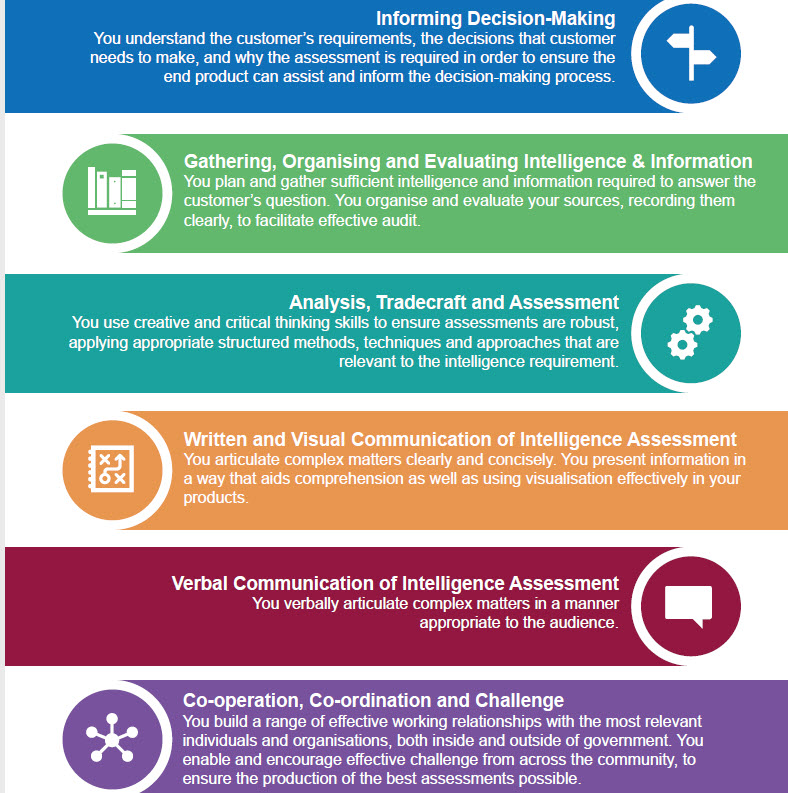 As technology constantly and rapidly changes, so does the way our information is attacked and gathered. Society is being shown, that not only in the cyber realm but in human intelligence gathering, the lengths people will go to obtain information. Treadstone 71 Cyber Intelligence training courses allow professionals on all levels, the ability to learn methods, techniques, and tools; to not only collect information, but to recognize and counter the gathering, analytics, and critical thinking skills used in intelligence and denial and deception. The hands-on case studies, scenarios, and team presentations in our cyber intelligence training courses provide the ability for the extensive comprehension necessary to strengthen both your personal and professional intelligence capabilities.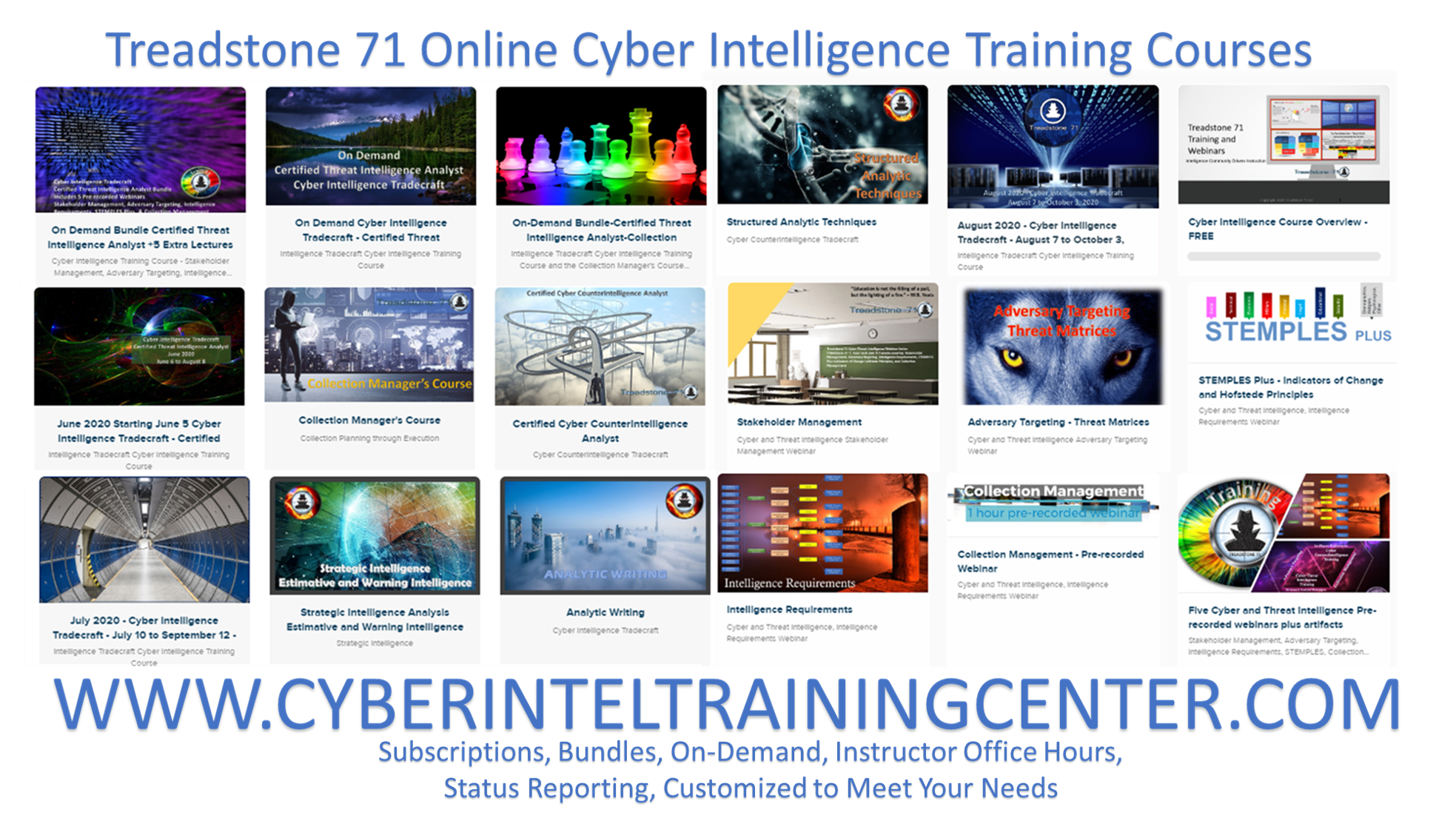 Analytic Writing
August 2020 – Cyber Intelligence Tradecraft – August 7 to October 3, 2020 – Certified Threat Intelligence Analyst
Collection Manager's Course – November 7, 2020
Collection Manager's Course – October 3, 2020
Collection Manager's Course September 5, 2020
Cyber Intelligence Course Overview – FREE
July 2020 – Cyber Intelligence Tradecraft – July 10 to September 12 – Certified Threat Intelligence Analyst (2 extra weeks due to two holidays)
June 2020 Starting June 5 Cyber Intelligence Tradecraft – Certified Threat Intelligence Analyst
November 7 2020 – Certified Cyber CounterIntelligence Analyst
November 7, 2020 – Cyber Intelligence Tradecraft – Certified Threat Intelligence Analyst
October 3, 2020 – Certified Cyber CounterIntelligence Analyst
October 3, 2020 – Cyber Intelligence Tradecraft – Certified Threat Intelligence Analyst
On Demand – Certified Cyber CounterIntelligence Analyst
On Demand – Collection Manager's Course
On Demand Bundle Certified Threat Intelligence Analyst +5 Extra Lectures
On Demand Cyber Intelligence Tradecraft – Certified Threat Intelligence Analyst
On-Demand Bundle-Certified Threat Intelligence Analyst-Collection Manager
September 5 Start – Certified Cyber CounterIntelligence Analyst
September 5, 2020 – Cyber Intelligence Tradecraft – Certified Threat Intelligence Analyst
Strategic Intelligence Analysis Estimative and Warning Intelligence
Structured Analytic Techniques
Subscription On Demand-Cyber Intelligence 2 Year Program