Read Time:
6 Minute, 34 Second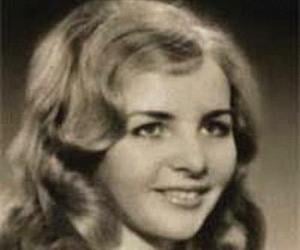 Quick Facts
Age:

 64 Years, 64 Year Old Females

Sun Sign:

 Capricorn

Also Known As:

 Lyudmila Aleksandrovna Ocheretnaya, Lyudmila Aleksandrovna Shkrebneva

Born Country:

 Russia

Born In:

 Kaliningrad, Russia

Famous As:

 First Lady Of Russia (2012-2013)

Height:

 1.65 M
Notable Alumni: Leningrad State University
Who is Lyudmila Putina?
Lyudmila Putina is a Russian linguist and social worker who was previously married to Russia President Vladimir Putin. Having grown up in Kaliningrad, she studied Spanish and philology in college. In her early 20s, she served as a flight attendant for the Kaliningrad branch of Aeroflot. Sometime in the late 1970s or early 1980s, she met her future husband who was back then a Komitet Gosudarstvennoy Bezopasnosti (KGB) operative. They married in July 1983 and went on to have two daughters. She taught German at the Leningrad State University, her alma mater, and later worked as the Moscow representative for TelecomInvest. She was at Putin's side as he joined politics and gradually rose to power. She became the second lady of Russia for the first time in 1999, and a years later, assumed the duties of the first lady of Russia. While both tenures were marred with controversies, she was able to maintain a low profile for herself and her children. In 2013, she and Putin publicly announced their separation, stating that it was based on a mutual decision. Since then, she has married Artur Ocheretny, a man twenty-one years her junior.
Childhood & Early Life
Born on January 6, 1958, in Kaliningrad, Russian SFSR, Soviet Union, Lyudmila is the daughter of Alexander Abramovich (or Avramovich) Shkrebnev and Catherine Tikhonovna Shkrebneva. She has a sister named Olga Alexandrovna (Tsomayeva). Alexander provided for his family by working at a local mechanical plant.
After finishing high school, she enrolled at the Leningrad State University (now Saint Petersburg State University) to study Spanish language and philology, graduating in 1986.
Marriage & Children
Between the time Lyudmila finished school and when she enrolled at the university, she found employment at Aeroflot's Kaliningrad branch as a flight attendant. When she and Vladimir Putin met in Leningrad, he was already a rising star in the KGB.
Putin had joined Soviet Russia's legendary security agency in 1975. After finishing his training, he began to work as the Second Chief Directorate (counter-intelligence) and later, was promoted to the First Chief Directorate where he was tasked to gather information on foreign operatives in Leningrad. They married on July 28, 1983.
The union produced two daughters. Mariya was born on April 28, 1985, in Leningrad. That year, the family moved to Dresden, East Germany when Vladimir was posted there. On August 31, 1986, Lyudmila gave birth to Yekaterina (Katja).
In Dresden, while he served his country as a secret agent using the cover identity as a translator, she was active as a linguist herself. After the Communist East German government collapsed, the family returned to Leningrad. Lyudmila took up teaching German at the Leningrad State University in 1990.
In 1991, Soviet Russia itself collapsed. Lyudmila was affiliated with the university, which was renamed Saint Petersburg State University after the name of the city itself was changed, till 1994.
Vladimir Putin's rise to power was nothing short of meteoric. In June 1991, he was appointed as the head of the Committee for External Relations of the Saint Petersburg Mayor's Office. Despite several controversies, he was able to keep his position and soon, his influence encompassed other key roles in the Saint Petersburg administration.
In 1995, he became Our Home – Russia political party's leader in the city. However, the more he came to political prominence, the more Lyudmila strove to avoid limelight, maintaining a low profile in the Russian political scene,
In 1996, the family moved again, this time to the capital of Russia. Lyudmila served as the Moscow representative of the international company TelecomInvest and the children were educated at the German School of Moscow.
The Second Lady of Russia
Vladimir Putin became one of the three First Deputy Prime Ministers on August 9, 1999, and later on that day, he was named the acting Prime Minister of the Government of the Russian Federation by then-President Boris Yeltsin. A week later, his appointment received approval from the State Duma. He served two presidential terms (2004-08, 2008-12) before becoming Prime Minister for the second time.
The complexity of Putin's career quite accurately reflects his almost absolute control on Russia. In May 1999, Lyudmila replaced Tamara Stepashina, wife of then Prime Minister Sergei Stepashin, as the second lady of Russia and in 2008, she replaced Zoya Zoubkova, wife of Viktor Zubkov,
Lyudmila, as the second lady of Russia, maintained the same reclusive lifestyle as she had since the beginning of her husband's political career. She and her husband decided to pull Mariya and Katja out of the German school. Since then, no photograph of them has ever been published nor a family portrait been circulated.
The First Lady of Russia
Lyudmila Putina became the first lady of Russia in 2000, replacing Naina Yeltsina. One of her duties was being the curator of a fund focused on both preservation and development of the Russian language. As a well-respected linguist, her preference for "maintaining and preserving" the language held a lot of merit, but it resulted in her making several statements against the orthographic reform.
The Russian Academy of Science had created a commission in 1994 in an effort to observe orthography of the Russian language and propose changes. In 2002, their findings and suggestions were announced but were soon rejected by Lyudmila.
She argued that the reforms were not only unnecessary but untimely as Russia had begun to rapidly grow into an economic superpower. Although her critics pointed out that she "de facto cancelled any attempts to reform spelling", the fact remains that the reforms received a lot of negative feedback from both academics and the public.
Divorce & Remarriage
Over the years, Lyudmila and her husband's private lives have been the subject of much speculation. The couple's former friend Irene Pietsch, in her book 'Fragile Friendship', wrote that once Lyudmila called Putin a vampire and he, in turn, remarked that anyone who would spend three weeks with his wife deserved a monument.
On June 6, 2013, the couple revealed the termination of their marriage on camera for the Russian news media at the State Kremlin Palace. Ten months later, in April 2014, Kremlin officially announced that the divorce proceedings had finished.
In January 2016, reports came out stating that Lyudmila had married businessman Arthur Ocheretny. Putin, on the other hand, has been linked with former gymnast, Alina Kabaeva, since the divorce.
Despite the divorce, Lyudmila still holds a certain degree of administrative power in the Russian government, including the complete control over the Centre for the Development of Inter-personal Communications (CDIC).
She kindled controversy in 2013 after the building that housed CDIC's office in Moscow was fully rebuilt. The old building, being Leo Tolstoy's address, had been named in the list of Russian cultural heritage register.
The new one, a four-story complex, mainly serves as a commercial building, with tenants such as VTB Bank, Sberbank, a construction company called Severstroygroup, a sushi restaurant and Burger King. The accumulated rent is about $3-$4 million which is paid to a company named Meridian. That company itself is under the ownership of Lyudmila's company Intererservis.